Save the Stupey Cabin Campaign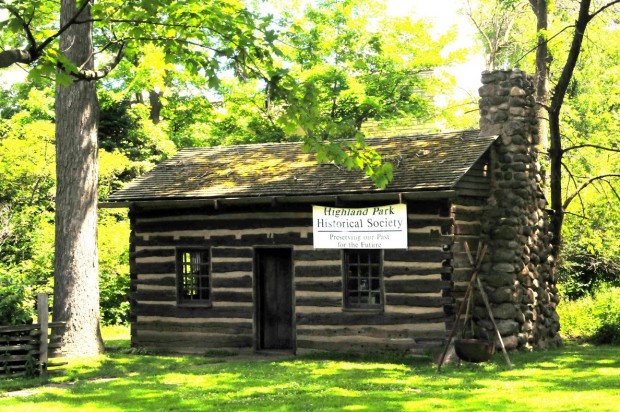 Highland Park, IL – July 15, 2014 – Building on the highly successful Stupey Cabin picnic held in June, The Highland Park Historical Society is launching a yearlong effort to raise $120,000 to preserve the pioneer structure 19th century building.  The funds will be used to bring the Stupey Cabin into compliance with landmark preservation standards as well as to provide necessary retroactive maintenance.
The 1847 Stupey Cabin was built by the family of Prussian immigrant Frances Stupey and is the oldest  standing structure in Highland Park. The cabin is owned and maintained by the Historical Society. It was moved to its current site in 1968. The cabin is in need of significant preservation work which includes  removing and replacing flooring, foundation work, chimney tuck-pointing, historically accurate log replacement and porch reconstruction, cleaning of exterior logs, replacing copper or zinc linings of the gutters, and replacing attic joists.
As part of the fundraising effort, The Highland Park Historical Society earned $1,500 by allowing The Onion, a satirical newspaper, to use the Stupey cabin as a backdrop for a recent photo shoot . It will be featured in the satirical video Tough Season that will run concurrently with the fall NFL season. In addition, the Stupey cabin is registered with the Illinois Department of Commerce which maintains a database used by directors researching possible film locations.
The society is also raising funds by selling monogrammed bricks at $150.00 to be placed on the path to the Stupey Cabin, centennial plates at $100.00 each as well as mugs featuring the image of the Stupey cabin for $75.00 each.
According to Board President, Rob Rotering, "the Stupey cabin is an irreplaceable treasure which uniquely helps define Highland Park. As stewards of history, we are obligated to protect this historic building and count on the strong support of both citizens and businesses."
To help save the Stupey cabin campaign, please click here or call the Highland Park Historical Society at 847.432.7090.
The Highland Park Historical Society was formed in 1966 and runs a museum in an original 1871 Highland Park Building Company Italianate house donated to the Society in 1969, by Jean Butz James. The Society's mission is to discover, preserve, provide access to, and disseminate the history of Highland Park. For more information, you are invited to visit the museum Wed.–Fri. 1-4 and Sunday 2-4. Contact us at 847-432-7090 or hphistorical@sbcglobal.net. Find out more about our organization and events at www.highlandparkhistory.com, and visit us on Facebook.