Celebrate 'Ask An Archivist Day'
National 'Ask An Archivist Day:' Nancy Webster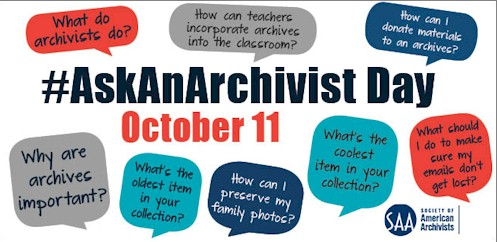 Celebrate 'Ask An Archivist Day' – Ask anything about archives and history, especially Highland Park history with Nancy Webster, Archivist.
#AskAnArchivist Day
Ask me anything, Highland Park, Illinois and beyond.
If you are already on our email list, you will receive a link, otherwise please contact us. Questions may be posed live or before the meeting via email: archives@highlandparkhistory.org or telephone: 847.432.7090.
Frequently asked questions about the history of Highland Park:
Is Roger Williams Street named after the piano player?
I was trying to find this house number, but it does not seem to exist. Is the home still there?
Where do I go to find out about my family who served at Fort Sheridan?
What do archivists do?
What is the coolest item in your collection?
Who invented the telephone?
Where is the oldest standing house of worship?
How can I use the archives?
How do I find …?