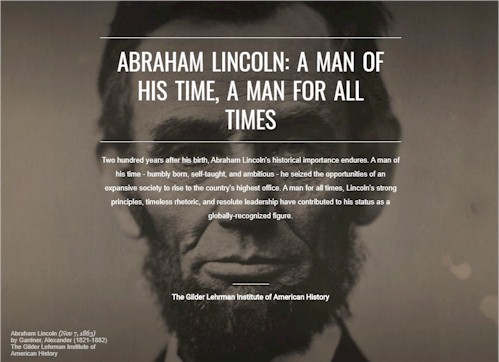 Highland Park —- Highland Park Historical Society will host  'Abraham Lincoln: A Man of His Time, A Man for All Times' at the Highland Park Library, 494 Laurel Avenue, in February.
More than two hundred years after his birth, Abraham Lincoln's historical importance endures. A man of his time – humbly born, self-taught, and ambitious – he seized the opportunities of an expansive society to rise to the country's highest office. A man for all times, Lincoln's strong principles, timeless rhetoric, and resolute leadership have contributed to his status as a globally recognized figure.
'Abraham Lincoln: A Man of His Time, A Man for All Times,' on loan from the Waukegan Historical Society, was a gift from the Gilder Lehrman Institute of American History and was underwritten by the National Endowment for the Humanities. This exhibit has additional content from the Highland Park Archives and Local History Collections, supported by a grant from the Highland Park Community Foundation.
Admission is free. For further information, please contact the Highland Park Historical Society: 847.432.7090 or archives@highlandparkhistory.org.