Fleeing the Nazis: A Journey of Two Sisters and the Hero Who Outwitted the Gestapo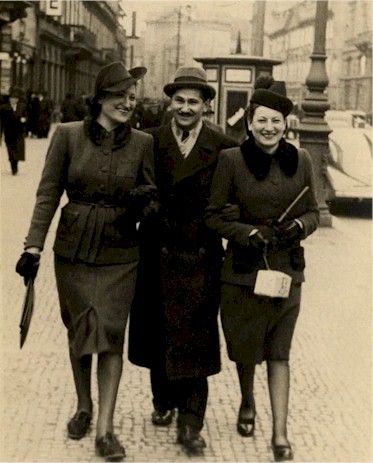 Recently, Bruce Mainzer decided to better organize the affairs of his 103 year old mother who had Alzheimer's. He first looked into a bank safety deposit box which revealed new details about his mother's escape from Nazi occupied Prague in 1939. Despite his mother's inability to recall any details of her harrowing trip, Bruce was able to connect the clues from the documents from the safety deposit box with stories from his own family members and information of newly discovered relatives in Israel and the US of the hero who impersonated an embassy employee to fool the Nazis. Bruce's mother and aunt were the first Jews to try out the forged document scheme and they successfully made it to Paris and then the US. Upon hearing of the two sisters' successful escape, the hero then used the same methods to eventually obtain passage for thousands of other Jews to escape Prague and flee to British occupied Palestine.
Bruce Mainzer is a native of the Chicago area and spent his childhood in Rogers Park and Winnetka. After college, Bruce started out as a public transit planner working for the RTA and IL DOT before embarking on a career in the travel industry with United Airlines, Hyatt Hotels and Norwegian Cruise Line. Bruce is now retired and is a resident of Highland Park and has served as Chairman of the Transportation Advisory Group for the City of Highland Park and currently is Vice Chair of the Chicago Chapter of The Climate Reality Project.
***
Tuesday, July 11, 2023
7 p.m. Central Time
Live at the Highland Park Public Library, 494 Laurel Avenue, Highland Park, IL 60035
Simulcast on Zoom
If you are not already on our email list, then to receive zoom link,
please e-mail: archives@HighlandParkHistory.org
www.HighlandParkHistory.com