"I'll Have What She's Having:" The Jewish Deli at the Illinois Holocaust Museum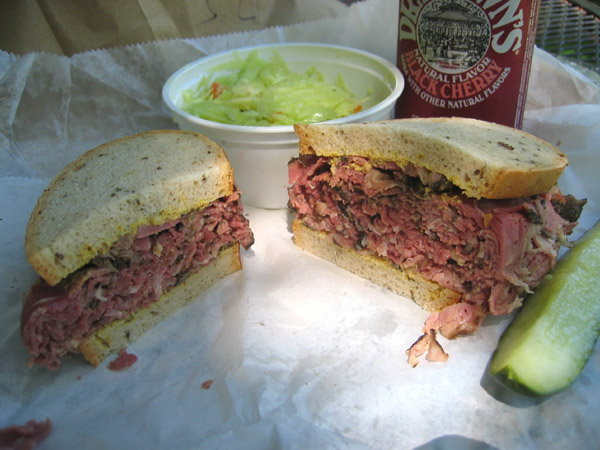 (Kaufman's Deli image Catherine Lambrecht)
Docent lead private tour of the Jewish Deli exhibit
More than a place to get a meal, the Jewish deli is a community forged in food. "I'll Have What She's Having": The Jewish Deli explores how Jewish immigrants, mostly from Central and Eastern Europe, imported and adapted traditions to create a uniquely American restaurant. The exhibition reveals how Jewish delicatessens became a cornerstone of American food culture, and how delis served as a lifeline for many Holocaust Survivors and refugees who came to the United States.
Get a taste of deli history through neon signs, menus, advertisements, uniforms, photographs, and film and TV clips. Plus, spark and share your own deli memories with fun photo ops and interactives! More about the exhibit.
***
Sunday, November 12, 2023, 12:45 PM arrival
Tour begins promptly at 1 PM
Illinois Holocaust Museum
9603 Woods Dr. Skokie, IL 60077
Directions
 Parking is free, and a bicycle rack is available near the south parking lot. You can download a printable map of the Museum before arriving.
Adults: $18
Seniors (65+): $12
Link to make reservations, then you will be emailed payment instructions
Note: Reservations capped at 50
and no more taken after November 5th.
Your name will be on a list at the museum. You may enter the Museum on the date of our visit anytime after opening at 10 AM and before our tour at 1 PM, and stay until 5 pm closing time.
General admission includes access to all current special exhibitions. For no additional cost, visitors can add The Journey Back virtual reality experience [20-30 min.] and the holographic theater Survivor Stories Experience [30-45 min.] to their tickets. Both the virtual reality gallery and holographic theater require timed tickets and are available to reserve at the gift shop after entering.
At 2 PM, there is a 90-minute tour of their permanent exhibit.
If you have any questions, phone 847/432-7090 or email Archives@HighlandParkHistory.org
www.HighlandParkHistory.org