Lake County Barns, Many from Newport Township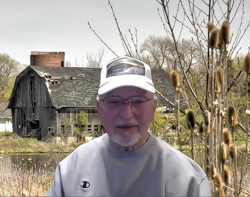 Highland Park Historical Society will host  'Lake County Barns,' on Thursday October 13, 2022 at 7:00 pm live and via Zoom.
Since 2015, John Rouse has photographed barns in Lake County.  He has photographed over 200 barns with 500 plus images.  In 2021, he launched the https://lc-farmland.net/ website to share the agricultural heritage of Lake county and farm life.  It is a resource for educators, preservationist, genealogist, families, historical societies, and other organized groups.
John is the webmaster for the Lake County Camera Club and the Chicago Area Camera Club Association.
Hybrid meeting:
Auditorium at the Highland Park Public Library
494 Laurel Avenue, Highland Park, IL 60035
OR Available virtually via Zoom
If you are not already on our email list, need a zoom link or have any questions,
please e-mail: archives@highlandparkhistory.org