No Ketchup: Chicago's Top 50 Hot Dogs and the Stories Behind Them with Dennis Foley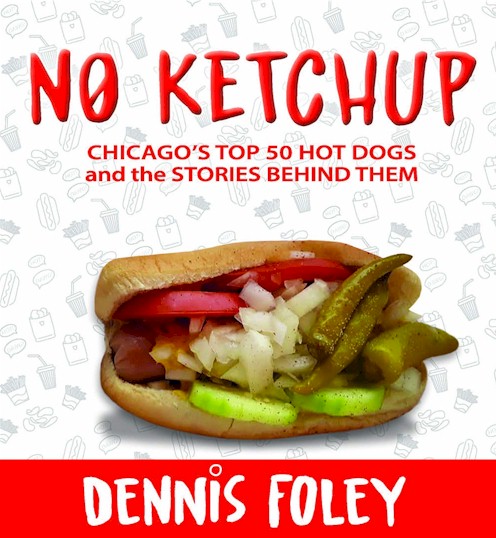 Highland Park —- Highland Park Historical Society will host "No Ketchup! Why Dennis Foley Ate 50 Hot Dogs in 50 Days." Via Zoom, at 6:30 p.m. on Thursday, October 22, 2020.
"The basic Chicago dog has its own ingredients," said Dennis Foley about the "Magnificent Seven" of mustard, onions, relish, tomatoes, pickle (or cucumber), sport peppers and celery salt that should top a dog with snap in a steamed bun.
The Chicago-style Hot Dog is fit for kings and commoners alike. In Dennis Foley's No Ketchup, you'll find Chicago's Top 50 hot dogs along with stories about the mom and pop entrepreneurs who slap the mustard on your wiener. No matter where you're at in the Chicago area, Foley will direct you to the nearest location for that tasty dog with plenty of snap. Get yours with everything or hold the relish. Whatever the case, stop in to one of these joints, grab a dog, and share a few words with the folks behind the counter as you knock down one of the greatest treats known to mankind.
Dennis Foley holds an MFA in Creative Writing from Columbia College-Chicago and a J.D. from The John Marshall Law School. His first book, The Streets and San Man's Guide To Chicago Eats, won the Midwest Independent Publishers Association Book Awards–1st Place for Humor. Happily married to Susan, Dennis is also the proud father of Matt, Pat, and Mike. The Foley clan resides in Chicago's Beverly neighborhood.
This event is free.  For further information and a Zoom link, please contact the Highland Park Historical Society: 847.432.7090 or archives@highlandparkhistory.org.