Ossoli Cookbook A fundraiser for he first public beach in Highland Park, Illinois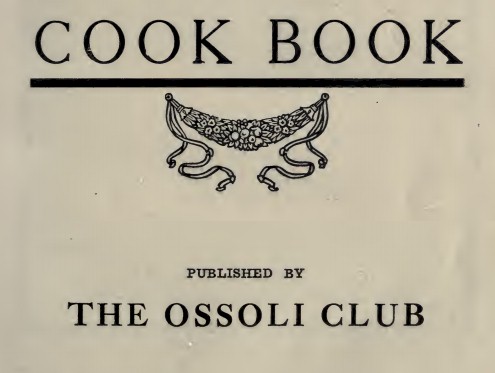 Ossoli Cookbook
A fundraiser for the first public beach
in Highland Park, Illinois
Highland Park —- A joint meeting of the Highland Park Public Library and Highland Park Historical Society will host 'Ossoli Cookbook, a fundraiser for the first public beach in Highland Park, Illinois,' on Tuesday May 4, 2021 at 7:30 pm via Zoom.
We are encouraging people to prepare a recipe from this antique community cookbook and discuss the results. This cookbook is available online via the University of Illinois.
Now a little history on the Ossoli Club:
The Ossoli Club of Highland Park started in the rooms of the Highland Park Club House (HPCH) in 1894.  Efforts to begin a woman's club at the HPCH were met with skepticism until George Boulton declared that it was "only a fad," and to let them amuse themselves. The initial name was 'The Monday Club.'  Six months later, following a national trend, they renamed themselves the 'Ossoli Club' in deference to Margaret Fuller (1810-1840), a transcendentalism writer. Ida (Mrs. Daniel) Cobb, charter member and president (1898-1900), wrote, "Previous to the year 1894, Reading Clubs afforded the only mental stimulus in Highland Park and little coteries of women with similar tastes would meet and discuss the subjects of the day…until we decided Highland Park could no longer afford to be without a woman's club."
Another keystone accomplishment of the Ossoli Club was the establishment and maintenance of the first public beach* in Highland Park in 1911.  The Club maintained the beach, provided swimming lessons, play equipment in the sand and in the water, changing rooms, chaperones, and lifeguards from the Young Men's Club; with yearly improvements until the City and Park District took over those responsibilities.  Funds from the sale of this cookbook were used for these yearly improvements.
Admission is free.  For further information or a Zoom link, please contact the Highland Park Historical Society: 847.432.7090 or archives@highlandparkhistory.org.
About the Highland Park Historical Society: The mission of the Highland Park Historical Society is to preserve our community's past, to inspire an appreciation of its history and culture, and to share them with the community and scholars. The Society is a 501(c)(3) charitable organization and is administered by a volunteer Board of Directors. The Archives and Research Collections are housed in the Highland Park Public Library. For more information about the Highland Park Historical Society, visit https://highlandparkhistory.com
*Central Avenue Beach where the North Shore Yacht Club is now located in 2021.