Stupey Cabin Harvest Fest 2019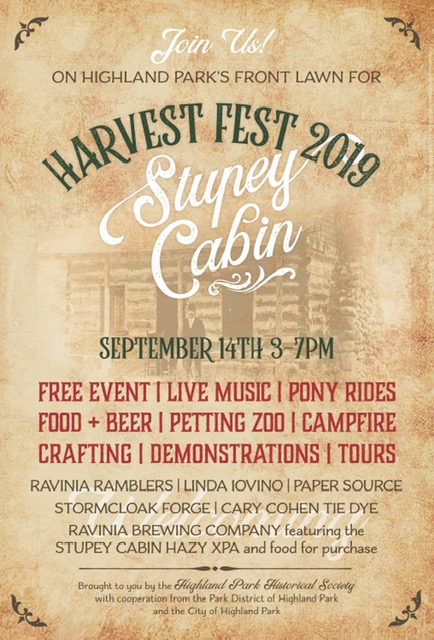 The Highland Park Historical Society invites the community to celebrate the city's pioneer history and step back in time on Saturday, September 14, from 3:00 pm until 7:00 pm at the Stupey Cabin, on St. Johns Avenue between the Highland Park Library and City Hall.
The celebration will include live music by the Ravinia Ramblers and Linda Iovino, food, and tours of the Stupey Cabin. Among activities for children will be a petting zoo, pony rides, Woof Pack Dog Rescue simulations and storytelling. PaperSource will provide crafts.There will also be live demonstrations of metal forging and cloth dying.
The Stupey Cabin was built in 1847 by the family of Prussian immigrant Francis Stupey, and is the oldest structure in Highland Park. Moved to its current site in 1968, when Exmoor Country Club donated it to the people of Highland Park, the cabin is owned and maintained by the Historical Society, which recently had it restored.
While all events at the celebration are free of charge, food and Stupey Cabin beer from Ravinia Brewing will be available for purchase.  The Historical Society will also welcome community support for its efforts.
Parking for the event will be available in the City Hall public parking lot and in the city parking structure at St. Johns and Laurel Avenues. Metra Union Pacific North Line trains, stopping at the Highland Park station across St. Johns, will also offer access to the event, which will be held rain or shine.
The Highland Park Historical Society's mission is to preserve, teach and make accessible the history of Highland Park. For more information, contact us at 847-432-7090 or email Archives@HighlandParkHistory.org
To learn more about the Society's organization and events, you can reach us at  www.highlandparkhistory.com, and visit us on Facebook under Highland Park Historical Society.