The Bonds of War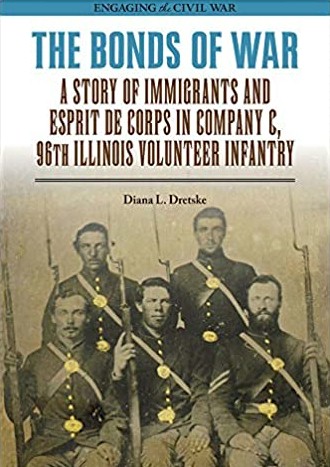 Our first Hybrid meeting:
Auditorium at the Highland Park Public Library
494 Laurel Avenue, Highland Park, IL 60035
OR Available virtually via Zoom
Diana Dretske will present on her recently published book, The Bonds of War: A Story of Immigrants and Esprit de Corps in Company C, 96th Illinois Volunteer Infantry (Southern Illinois University Press), which is a finalist for the 2021 Army Historical Foundation Distinguished Writing Awards. The book is a collective biography inspired by a portrait in the collections of the Bess Bower Dunn Museum of five immigrants from Britain and Ireland, who served in the American Civil War. The presentation will include her research to identify the men in the portrait and the significance of their voluntary military service and desire to be recognized as American citizens.
Diana Dretske is the Curator and Lake County historian for the Bess Bower Dunn Museum. She has been researching the history of northeastern Illinois for over 30 years, published three books on the history of Lake County, and is the recipient of a Lifetime Achievement Award from the Illinois State Historical Society for her outstanding contributions in promoting, preserving and commemorating Illinois history.
If you are not already on our email list, need a zoom link or have any questions,
please e-mail: archives@highlandparkhistory.org