The Happy Invention: The History and Significance of Picture Postcards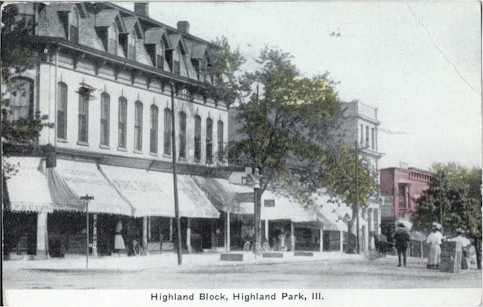 Presented by Katherine Hamilton-Smith
Available to see on Facebook
Highland Park Historical Society will host ' The Happy Invention: The History and Significance of Picture Postcards' with Katherine Hamilton-Smith on February 24, 2021 at 7:00 pm via Zoom. This event is presented as part of the Illinois Humanities Road Scholars Bureau outreach.
The first picture postcards were published for the 1889 Paris Exposition, celebrating the completion of the Eiffel Tower. In America, the first such postcards were printed for the 1893 World's Columbian Exposition in Chicago, making Illinois the birthplace of the American picture postcard. Since those flowery Victorian originals, uncountable numbers of postcards of every aspect of life have been printed, depicting train stations and bandstands; street views and cartoons; ads for products and services; social history, both whimsical and dark; and everything in between. An early mention of postcards is in the 1870 diary of a Welsh curate, who called them "a happy invention."
In 2016, the world's largest public collection of postcards and related materials, the Curt Teich Postcard Archives, was given to the Newberry Library by the Lake County Forest Preserve District. Katherine Hamilton-Smith, the founding curator of the Teich Archives, presents a look at the documentary power and significance of picture postcards. She touches on the Curt Teich Company of Chicago, the role Illinois played in the history and development of postcards, and on the picture postcard as a cultural icon.
Katherine Hamilton-Smith, the founding curator of the Curt Teich Postcard Archives for the Lake County Forest Preserve District, was responsible for creating and developing the archives. She managed its growth, working with private collectors and other institutions to create the unparalleled assemblage that was acquired by the Newberry Library in 2016 and is now one of the Newberry's 11 Core Collections. Ms. Hamilton-Smith is currently Director of Public Affairs & Development for the Forest Preserve District.
Admission is free.  For further information or a zoom link, please contact the Highland Park Historical Society: 847.432.7090 or archives@highlandparkhistory.org.
About the Highland Park Historical Society: The mission of the Highland Park Historical Society is to preserve our community's past, to inspire an appreciation of our history and culture, and to share with the community and scholars the rich history of Highland Park, Illinois. The Society is a 501(c)(3) charitable organization and is administered by a volunteer Board of Directors. The Archives and Research Collections are housed in the Highland Park Public Library. For more information about the Highland Park Historical Society, visit https://highlandparkhistory.com
About Illinois Humanities: Illinois Humanities strengthens the social, political, and economic fabric of Illinois through constructive conversation and community engagement.  Founded in 1974 as the state affiliate of the National Endowment for the Humanities, Illinois Humanities is the only statewide proponent of the public humanities in Illinois.  Through public programs, education, and training, and grantmaking, Illinois Humanities connects Illinoisans who might not otherwise encounter one another.