The Pilgrim Kitchen & The Harvest Celebration of 1621: Plimoth Patuxet Museum, Plymouth Massachusetts with John Ota
The Pilgrim Kitchen & The Harvest Celebration of 1621:
Plimoth Patuxet Museum, Plymouth Massachusetts
with John Ota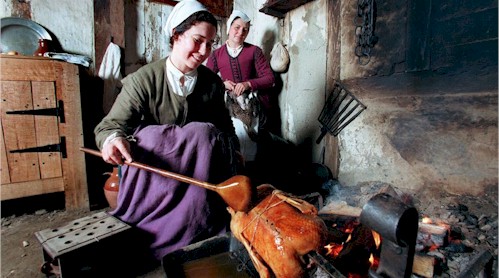 As part of the research for his book, The Kitchen, John Ota travelled to Plymouth, Massachusetts where he cooked a meal over an open fire with Pilgrim Foodways historian Kathleen Wall.  On the 400th anniversary of the Harvest Feast between the New England colonists and the Wampanoag people, John will share his experiences of the culinary history, architecture, cooking methods and the dishes from the first Thanksgiving of 1621.  John's presentation will include multiple images, 1621 recipes as well as truths and misconceptions about this favorite holiday occasion.  Yes, there was turkey – but it was not the main event!
Biography: John Ota has been involved with architecture and design since 1978. He has worked in architecture offices in Toronto, New York and Vancouver and has degrees from the School of Architecture at Columbia University and the University of British Columbia. He has also written articles on architecture and design for major newspapers and magazines across Canada. He is an active member of the Culinary Historians of Canada.
For further information, please contact the Highland Park Historical Society: 847.432.7090 or archives@highlandparkhistory.org.  Admission is free.