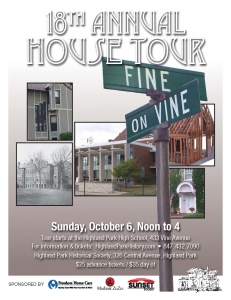 Contact:
Nancy Webster, Archivist
Highland Park Historical Society
847- 432-7090
FOR IMMEDIATE RELEASE
Highland Park Historical Society Presents 2013 House Tour – Fine on Vine
Highland Park, IL – (September 12, 2013) – The Highland Park Historical Society along with Highland Park High School will present the 18th annual house tour Fine on Vine on Sunday, October 6, from Noon to 4PM. This marks the first year both the Historical Society and the High School have collaborated on the House Tour.
The tour begins inside Highland Park High School.   It will include the school's Depression era  murals, which were lost for 50 years. Plans for the new construction at the high school will be on display. Hall of Fame recipients will also be showcased.  Tea will be served courtesy of Madame ZuZu.
One of the highlights of the tour will be an exhibit on the unique "Boy Built Homes" program.   Part of the high school curriculum in 1920s-1940s, these homes were constructed as part of the industrial arts class taught by Walt Durbahn. With the support of local trades, students built a new home each year, getting hands on experience with carpentry, wiring, plumbing and design.  There will also be a scale model of the home on display.
Tour participants will walk east on Vine visiting the interiors of a number of 19th and 20th century homes ranging from cottages to mansions, including one of the actual "boy built" homes. Docents will be present in the selected homes to highlight the key features and unique details.
There is no charge for the high school only portion of the tour.  Tickets for the entire 2013 Fine on Vine House Tour are $25 in advance or $35 at the door, and can be purchased during open hours at the Highland Park Historical Society's museum, 326 Central Avenue, Wednesdays-Fridays, 1:00PM-4:00PM and Sundays 2:00PM-4:00PM.  Tickets are also available by phone at 847.432.7090, or by email at hphistorical@sbcglobal.net. Tickets purchased in advance can be picked up at Highland Park High School on the day of the event.  Sponsors of the event include Sunset Foods and Freedom Home Care.
For more information please visit Facebook or call Nancy Webster at the Historical Society  847-432-7090.
PURCHASE TICKETS HERE: