John S. Van Bergen (1885-1969)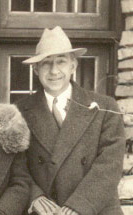 Biography
John Shellette Van Bergen was born in Oak Park, Illinois.  As a young man he worked for an uncle who was a speculative residential contractor.  He became interested in architecture, and, through family connections was hired as an apprentice by Walter Burley Griffin.  Griffin had worked for Frank Lloyd Wright's before starting his own practice in 1905.  Van Bergen studied for the architecture license examination at the Chicago Technical College, and, in 1909, was the last employee hired by Frank Lloyd Wright at his Oak Park Studio.
Van Bergen was licensed in 1911 and opened his first office in Oak Park. His early projects, mostly in Oak Park, were predominantly residential and largely in the style of the Prairie School, which he learned in Griffin's and Wright's studios.
For these private homes, his designs expressed the casual side of prairie architecture through his selection of material, roof lines, or detailing.
He did his World War I at Fort Sheridan where he worked on the conversion of existing buildings into hospitals.  After his discharge in 1919, he married, settled in Ravinia and resumed his practice.  He lived in Highland Park for 26 years and did some of his best work here. His wife, Ruth was the office and business manager for the practice.
Besides raising their two daughters in Highland Park, the Van Bergens were active in the community.  He was on the Buildings and Grounds Committee for School District 108, he founded the organization, "The Friends of Our Native Landscape" with his neighbor and friend, Jens Jensen and his wife was active in the garden club.
At the end of the Second World War they sold their home in Highland Park and moved to a rural area in Hawthorne Woods; later they moved to Lake Barrington.  His private architectural practice was slowing considerably, largely due to the boom of mass produced tract housing that was fueled by the needs of returning veteran.  Although this was not Van Bergen's primary interest, he became in essence, a small developer, buying large tracts of land, subdividing and selling the lots, sometimes with a home of his own design.
In 1955 the Van Bergens moved just outside of Santa Barbara, California.  His younger brother and sister, whom he had persuaded to move to Highland Park in the Twenties, had already moved to California.  This time it was older brother's John turn to move to be near them. Van Bergen's architecture practice continued, on a diminished scale in California.  Again, he augmented it by subdividing tracts of land for residential development.    Tragedy occurred I n 1964.  His home and studio were destroyed in a wildfire and he lost virtually all his drawings and other records of his 44 years as a designer.  They rebuilt their home, but after a series of strokes, John Van Bergen died in 1969 at the age of 84.
Signifcance
Until recently, Van Bergen has primarily been known as an assistant to Frank Lloyd Wright, and the one who was left to wrap up the practice and complete the projects under construction in 1909 when Wright eloped with Mamah Cheney.  In recent years there has been a re-evaluation of the Prairie School and Van Bergen's stature as a major architect has emerged.
Marion Mahoney Griffin, who also worked for Wright at that time, wrote in her autobiography:
"The enthusiastic and able young men as proved in their later work were doubtless as influential in the office later as were these early ones but Wright's early concentration on publicity and his claims that everybody was his disciple had a deadening influence on the Chicago group."
The Prairie School is usually thought to have ended before World War 1.  Not true.  Van Bergen continued to design in the Prairie Style throughout the 1920's and well into the Thirties and he did some of his best work in this period.  By this time the automobile is a part of suburban life and Van Bergen's designs started to include attached garages.  This is an example of how he strove to keep up with technology and meet his clients' needs
His house and studio, which he built at 234 Cedar Street in 1920, is a fine example of his approach to the prairie style.  Van Bergen and the landscape architect Jens Jensen were neighbors.  The older Jensen became a mentor to Van Bergen and collaborated on several projects.  Van Bergen was inspired by Jensen's love of the area's indigenous prairie setting and he created buildings that were harmonious with their natural surroundings.
Van Bergen designed Braeside School (one of the few Prairie designed schools ever built) in 1927 and an addition ten years later.  He regarded it as his masterwork.
Unlike many important architects, Van Bergen is not known for designing mansions or tall buildings.  Instead his best works are schools and a series of modestly sized, single family homes.  His work shows that brilliant, innovative design can accompany affordability and livability.  His excellent sense of proportion and use of stratified stonework resulted in structures, which are so visually striking that they are often mistaken for the work of better known Prairie architects.  The importance of Van Bergen's work is just beginning to be appreciated and Highland Park is fortunate to have so many good examples of his mature style.
Bibliography and Internet Resources
Hackl, Martin. The Work of John Van Bergen Architect. Self Published May 2007.
Clancy, Jonathan. Transcendentalism and the Crisis of Self in American Art and Culture, 1830—1930. Pp. 257-8.
Hackl, Martin. http://www.re-building.com/johnvanbergen/title.html.
National Register of Historic Places. http://www.nationalregisterofhistoricplaces.com/il/lake/state.html.
Ryerson & Burnham Archives: Collection Descriptions, John S. Van Bergen Collection description, Libraries and Archives, The Art Institute of Chicago.
Twombly, Robert. Frank Lloyd Wright:His Life and His Architecture, (Google Books), Wiley-IEEE, 1987, pg. 111, (ISBN 0471857971).
Clark, Clifford Edward. The American Family Home, 1800-1960, (Google Books), University of North Carolina Press, 1986, pg. 146, (ISBN 080784151X).
Muggenberg, John. "The Prairie Spirit into the Mid 20th Century" The Prairie School Review

,

Volume XII, Number 1-4. 1976 ,pp 5-24.