House Tour begins at 12pm @ Braeside School. Sunday Oct 21.
Highland Park Historical Society – Van Bergen Month from Media House on Vimeo.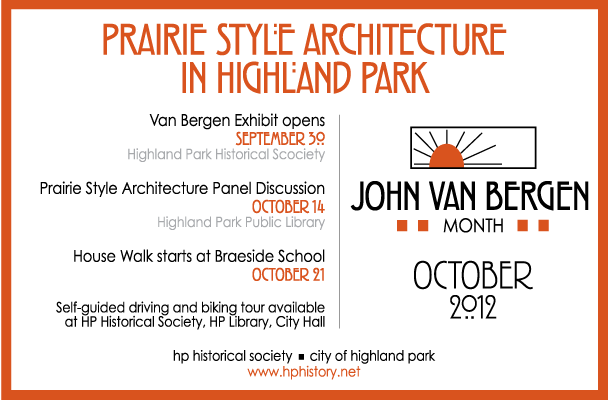 Contact:
Lisa Temkin, Historic Preservation Commissioner
Van Bergen Month Coordinator
847-266-1320
FOR IMMEDIATE RELEASE
Highland Park celebrates Prairie Style architect John Van Bergen
Highland Park, Illinois –  (August 1, 2012) October 2012 is John Van Bergen Month in Highland Park.  The City's Historic Preservation Commission and the Historical Society have teamed up for a series of events highlighting the career of the brilliant and underappreciated Prairie Style architect, John Van Bergen.  House tours, exhibits, and lectures are among the planned activities.
Of all the Prairie architects, John S. Van Bergen (1885-1969) is probably the most closely associated with Highland Park.   He worked for Frank Lloyd Wright for a year and started his own practice in Oak Park in 1911.    But he moved to Highland Park at the end of the First World War and lived here with his family for 25 years.  He designed more than 30 buildings in Highland Park, including Braeside School, the commercial building at 1894 Sheridan Road as well as single-family homes throughout the city.  Jens Jensen, the noted landscape architect was Van Bergen's neighbor, friend and mentor and they collaborated on several projects including an addition at Ravinia School.
Many think the Prairie Style ended around 1915.   However Van Bergen continued to work in this style well into the 1930's.   His homes reflect the ethos that great architecture, tailored to the owners' specific needs, is for everyone, not just the very wealthy.  Current owners of  "not so big houses" will be inspired by both interiors and exteriors, and the way each building makes the most of its setting.  The events planned for Van Bergen Month include:
Sunday, September 30, 4-6 pm at the Historical Society,  326 Central, Highland Park the opening of a comprehensive exhibit spanning Van Bergen's 55 year career (on-going through October).  The exhibit features Marty Hackl's photographs and collection of Van Bergen artifacts.   A portion of this exhibit will also be on view at the Highland Park Public Library, 494 Laurel, Highland Park.
A self guided bicycling/driving tour with downloadable audio.  Tour brochure available at the Library, the Historical Society or City Hall. Free.
Sunday, October 14, 2pm – free lecture at the Library
Sunday, October 21, 12-4 pm the Historical Society's annual house tour, beginning at Braeside School, the building Van Bergen considered his masterpiece and continuing  with 6 Prairie Style homes.  $30 in advance.
Historical Society President Rob Rotering commented "The Historical Society is the best resource we have in Highland Park for programs and learning opportunities that celebrate our past."   Historic Preservation Commission Chair, Jean Sogin added, "By combining our resources we can offer more programs and make them more widely available."  Both agreed that while this is the first time the two organizations have collaborated on a project, it certainly wouldn't be the last.  For more information please call Lisa Temkin  847-266-1320 or go to  http://www.hphistory.net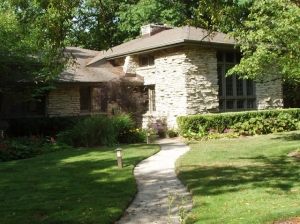 234 Cedar, Highland Park – Van Bergen's home and studio, 1920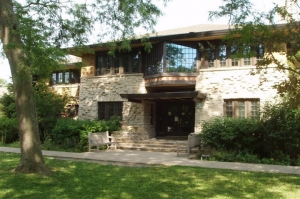 Braeside School, 150 Pierce, Highland Park, designed by Van Bergen in 1927